1980's
I'll be working on this page (and adding more sub pages), if you wanna keep checking back.:)



Welcome To Retro World!!! The Place Where "Girls Just Wanna Have Fun!!!"
Thank you for stepping in your time machine and taking a trip with me back to the MOST AWESOME decade of the 1980's!!!



My Favorite Songs
1980 ~ 1981 ~ 1982 ~ 1983 ~ 1984
1985 ~ 1986 ~ 1987 ~ 1988 ~ 1989



How I remember the 1980's ~ This page describes the 1980's from my point of view and how I remember the MOST AWESOME decade.
My Favorite Things From The 1980's
My 1980's Fashion Page
My Memories Of Being A Child Of The 1980's
My Pet Peeves About the 1990's
Forget about the 1980's?! NOT!!!!! With this page and these RADICAL 1980's Links, "There Is Always Something There To Remind Me."
Do you have a favorite memory from the 1980's (something that would happen in the 1980's that probably wouldn't happen in the 1990's or now (or something that would make the 1980's unique from any other decade))? What was it like to be a teenager in the 1980's? If you have any memories, please submit them below (in the 1980's GuestBook).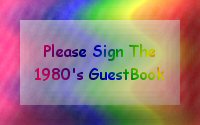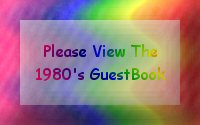 Coming Soon ~ My favorite 1980's TV Shows, Movies, Fashions, Games, Memories & other stuff.:)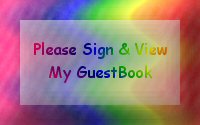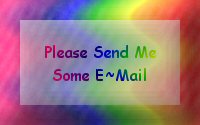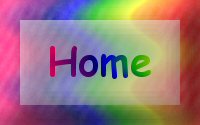 Number of 1980's Fans since Sunday, January 13, 2008:


This page was last updated Wednesday, July 25, 2018.